LECTURES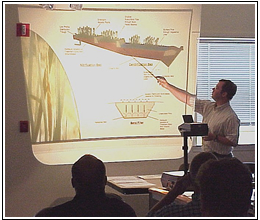 Mr. John W. Salm, III, P.E. , President of J. W. SALM ENGINEERING ,I NC . , has lectured on the topic of constructed wetlands for wastewater treatment and storm water renovation throughout the nation during the last decade. Mr. Salm's presentations have been welcomed by engineers, developers, regulators, schools and civic organizations alike. The technical level of each presentation is tailored for each particular audience. Mr. Salm tailors the level of detail for each presentation based upon the audience's background, training and special interests.
JWSE would be pleased to schedule a seminar or technical lecture for your group or organization. You may contact us by phone, fax or email in order to receive more information or to schedule a lecture.


Custom Lectures Available
JWSE is able to prepare custom lectures on detailed topics including:
Ground water flow and injection well disposal
Constructed wetlands treatment for industrial sites
Aesthetic, habitat and wildlife concerns
Restoration of degraded environments with reclaimed water
Beneficial reuse of reclaimed water
Biological nutrient removal for retrofits and new design
JWSE also applies its' expertise to the review of wetland designs of other consultants for interested parties that may include municipal residents, homeowner associations, neighboring communities and municipalities and regulators. Please contact us to discuss your application in detail or via the web on our project request form.